At Eroticon I got my hands on a wonderful Doxy massager and I must say I couldn't wait to get home and find out if it can make me orgasm or not.
The Doxy is made in the UK and lucky for me they also make them with an EU socket so I didn't have to worry about sockets and such. My first impression after seeing it in person was: ' wow that thing is huge.' Yes really. I have an eroscillator and next to it, it looks enormous. It comes in a nice cardboard box that fits it nicely and makes you think it is even bigger. But it's not all about size. With the Doxy it is all about vibrations and very strong ones that is. With tested it a few times and I must say after the Doxy, my regular go to toy seems awfully weak. Make sure if you use it, it's the last thing you want to use because everything else will seem weak.
The Doxy has three buttons on it and it is easy to navigate them. Next to the low to high settings there also is a pulse setting what you can use and you can also vary that with the plus and minus buttons just like you can adjust the strength in the normal settings.
When I tried the pulse setting, I liked it but it can get too much when it peaks. The pulse you can set in how quick it pulses but it always goes to the highest setting at the peak of the pulse.
A good thing about the Doxy is that you don't have to worry about batteries because you can just plug it in and the very long cord will give you plenty of range.
The head of the Doxy is made of a material the feels nice and when dry it gives you a nice amount of friction. I have only used it through my panties because I like to have that friction and it is nice to not have the vibrations directly on your clit. You can also use it directly through clothing because it certainly is strong enough to still get the desired effect.
The downside of the head is, if you want to travel with the Doxy, you need to be careful with it and wrap it properly. It would have been perfect if there was a cap for it because it gets easily marked if you travel with it. And the cardboard box it comes in is quite bulky and not really ideal to travel with.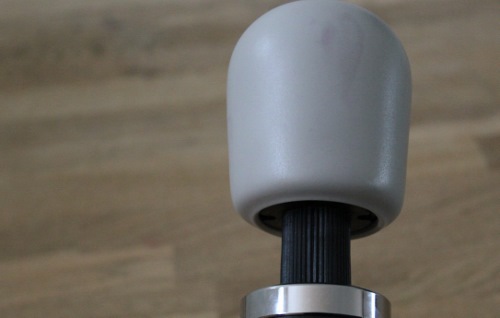 The other thing that can be a downside of the Doxy is the noise. It certainly is not ideal you want to be discreet and you have the Doxy on high. It makes quite a bit of noise, especially if it touches something else then your body. For me for instance, the matras resonates quite a bit and it can be heard in the next room even with it on low. Of course this is due to having so much power, if it's stronger, it is bound to be more noisey.
After *thoroughly* testing the Doxy, I can say it is one of the very few toys that can make me come and currently resides in my collection of two go-to toys when I'm masturbating. And that is a good thing because a lot of toys can get uncomfortable really quickly. Especially when you masturbate grinding into the toy. So yes, I love it and definitely a keeper!